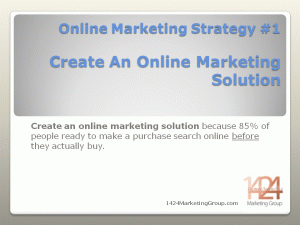 "Strategic marketing consulting" isn't just a smart business move, it is a business survival move these days. Why? Because the Internet has changed the world in ways that affect all businesses, great and small. You, as a local business owner may be doing all the same things that have worked for you for decades, maintaining all the quality and all the services that made you a leader in the first place. But here's the deal: your customers' buying and browsing behaviors have changed. That affects your bottom line.
Now, before most consumers head out the door to spend their money, they turn to the Internet first to check and see where they can get the best deal, the best value, or something a little newer and different. And sometimes they don't even leave home; they find they can simply click, pay, and get it delivered to them.
When customers (who don't know your website address) go searching online for a product that you carry, for a solution to a problem that you can solve, or a service that you offer, will they find you? They are going to find somebody, and data tell us that they will most likely spend their money with the businesses that show up in the top online search results. That is what we call online competition--irrespective of the quality or uniqueness of the actual goods or services.
Small business owners in general are excellent at what they do (products and services), but notoriously poor at marketing what they do; especially now that the Internet is the first marketplace to which people turn. And it isn't enough to simply have a website; today small business owners like you need to have a comprehensive online marketing strategy that engages the search engines. This is the only way to ensure that the very people most likely to want what you have, will find YOU.
Search engines (like Google) were created to meet the needs of people searching online (aka your potential customers). They take the search terms that people enter and go looking for solutions that match those terms. A simple website that is not optimized for search will not be found online without the help of the search engines; there is just too much information on the Internet these days. The good news is that most websites can be optimized pretty easily.
If your business is not pulling quite the same traffic that it used to, or you are ready to start attracting some new customers, and you have not yet created an online marketing solution, start by getting some strategic marketing consulting.
It could make all the difference--and wouldn't that be nice?


About Thia Hamilton
Thia chalks her success in small business development and strategic marketing consulting up to an intrepid entrepreneurial spirit and an unwillingness to stay inside the box — any box!