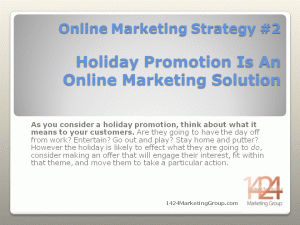 Some holidays just shout business promotion; others...maybe not so much. Try thinking what an upcoming holiday--even a minor one--means to your customers. Are they going to have the day off from work? Entertain? Go out and play? Stay home and putter? Are they going to wear a certain color, play special music, or pay tribute to a memory? However the holiday is likely to effect what they are going to do, consider making an offer that will engage their interest, fit within that theme, and move them to take a particular action. Here are a couple tips:
Offer a holiday special, give a coupon
, create a first-come-first-serve or "while they last" promotion on your website or your social media page--specific to a holiday. When you do things like that, you increase the chances that people will also come through your doors. Ask them to "Like" You on Facebook, or Retweet your special offer to their friends on Twitter. Are you Yelping yet? That is a great place to post specials. Watch how quickly things can spread online!
Plan ahead and pay attention to timing
. It could be that your customers will be online in the days ahead of the holiday, but not as much on the day itself. Timing matters.
Be sure that your offer solves a problem
, answers a question, or meets a need--even a simple one. When it comes time to make larger more consequential buying decisions, your customers will remember your generosity, sense of fun, and the way you always seem to understand what matters to them.
Put a little holiday in your online marketing solution this month, then "rinse and repeat" throughout the year.
Have fun...and Happy Holidays!


Until next time,



Thia Hamilton
Co-Founder, 1424 Marketing Group
About Thia Hamilton
Thia chalks her success in small business development and strategic marketing consulting up to an intrepid entrepreneurial spirit and an unwillingness to stay inside the box — any box!