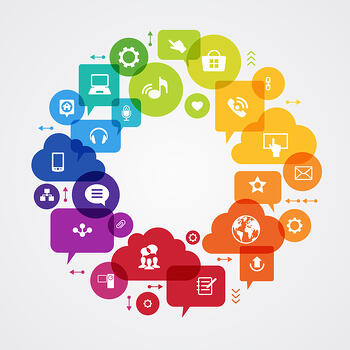 Great news! You're in charge of social media. Now what? What is social media, really, and how do you generate social media buzz for your company? You can do it yourself, hire staff or engage a social media agency, but no matter which way you go it takes many skills to provide great social media management services. So, whoever does end up handling your social media marketing must "wear the big hat" — or in this case three hats — to get your company engaged.
And speaking of engagement….
The Data Hat: Reach, Engagement and Conversion
Both quantity (reach, how many people see your messages) and quality (engagement, how many people interact with you) are important. After all, you have to actually reach people before they can interact with you, right? That said, I'll take a smaller reach with a highly engaged audience any day.
How do you know engagement is being done right? Here are a few things you should measure or track to keep tabs on social media engagement:
Comments. Are people leaving comments on your blog posts, LinkedIn, Google+ and Facebook?
Votes. Are you getting LIKEs, +1s, thumbs up (or down), 5 stars (or 1) … whatever. Is your content engaging enough to motivate people to at least make that small effort to rate it?
Shares. Are people sharing your content with others in their social networks? Do you get Retweets, Mentions or Direct Messages on Twitter?
Clicks. Are people clicking on the links in your posts?
Conversion is even more important. This is where the rubber meets the road and prospects actually become leads. How do you measure how many people took action because of your messages? You look at things like how many online forms were submitted or how many registered for webinars or downloads or how many sales you made. You can even track phone calls coming in as a result of your efforts.
These are all things that can be measured and tracked to show progress. That's a start. But you need to dig deeper. Design your own tests. Implement them. Track and review the results. Make changes you think will improve things. Rinse and repeat.
So, put on your marketing analyst hat and dig into those numbers.
The Creative Hat: Content Creation
And how do you get high levels of engagement? Great content, that's how. Not only do you need great content, you need great content geared specifically to each social network. And you need images for that content.
In fact, images are crucial. According to a recent HubSpot A/B test, tweets with a link and an image yielded 55% more leads than tweets with just a link. That's pretty good incentive to go the extra mile.
How do you know what to talk about? You keep your ear to the ground. You keep up with current events and trends in your industry. You try to stay ahead of the curve and find the new opportunities for your company while they're still truly opportunities.
And then you put on the copywriter/designer hat and get the word out.
The Facilitator Hat: Fill the Funnel
Sometimes the best thing you can do for your company is to help people in your social media communities connect with each other. Your engaging content gives you a chance to get a conversation going. And just like an in-person networking event, sometimes what people are looking for isn't what you have to offer — but you know where they can find it.
People will remember your generosity, and it will pay dividends down the road. Meanwhile, your reputation — and influence — in the community will grow. And that opens the door for more and more opportunities. Some of them will pan out today. Others won't come to fruition until later. Either way it's good for business!
Building the funnel. As the facilitator you want to share content that is not only helpful to your audience but that will also bring more visitors to your website, generate more leads and nurture those leads until they become customers. That means you need to interact with people one-on-one. Answer their questions. Offer advice. Point them to places where they'll get what they need.
You want to be the social butterfly, not the wallflower, of your online communities.
So, saddle up folks — and bring all your hats. It's gonna be a wild ride!
About Deborah Young
Deborah is a reformed tennis bum and inbound marketing strategist whose main professional purpose is to support local business owners, experts and entrepreneurs by helping them understand the impact and importance of online marketing. She is one happy camper when she can help clients be more visible on the Internet, increase their own customer base and become more profitable. How can she help you?
Topics: Social Media