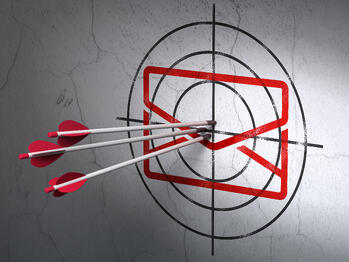 If you've done any research on generating and nurturing leads for your business you have probably heard the advice to limit the information you ask for on an online form to Email and (maybe) Name. Best email marketing solutions practice says raise your opt-in rate by only requesting minimal information but....
There's some logic to that approach but in the end it's much more important to have a high conversion of leads to sales than conversion of visitors to leads. You want quality more than quantity — especially if your business has a high customer lifetime value. So let's look at some reasons why you might want to segment your list on the front end by including an extra field or two on that opt-in form.
Why are People on Your List?
People have their own reasons for joining your list — and they're all different. To successfully engage your prospects you need to understand their challenges, wants, and needs.
They opted-in to your list because something you had to say resonated with them. But do you know what — exactly — it was? If you do — great! Now you can tailor your email campaigns with messaging that matches what you know about your prospect.
If you only ask for email and name, what do you really know about that lead? Well, you know their email address and their name — and you know that something you had to say on the landing page appealed to them enough to opt-in to your list.
You need to know more, and the only way to find out is to ask.
What Industry Do They Represent?
This may be THE most important question you can ask. Many companies (especially B2Bs) use Industry as a way to differentiate leads and segment lists. Including this one simple drop-down field could pay big dividends down the road.
If you sell CRM software will a restaurant have the same pain points as a dentist or an eCommerce site? Probably not. And if you send a message that applies to all three, chances are you'll end up not appealing to any of them.
People Will Look Forward to and Read Your Emails
By asking this one simple question at the beginning of your relationship with a lead, you have now given yourself to opportunity to be relevant — and that is the difference between someone eagerly looking forward to reading your emails or automatically hitting Delete.
Not only is the basic content of your messaging relevant to them now, but you can also do things like:
Speak their language. Create content and calls-to-action that use industry-specific terms and acronyms.
Provide better social proof. Show that you know how to help them by providing customer testimonials from others in the same industry.
Hook them from the get-go. Create attention grabbing subject lines, descriptions and opening paragraphs that speak directly to the things that keep them up at night.
Ask An Open Ended Question
You may also want to consider adding one more field to that opt-in form. Asking an open ended question like "What is your biggest ________ concern?" can provide valuable insight into what's important to a prospect. An open ended question doesn't lend itself so much to automating follow-up campaigns as to giving you an opening for a more meaningful conversation with a prospect, whether via email or verbal communication.
And there's no time like the present to ask that question. Why? Well, it's not exactly the kind of question you'll include in an online poll, right? So, ask them now and be prepared when it's time to take the relationship to the next level.
Think about adding these one or two fields to your email opt-in forms. Chances are you won't see a significant drop in your opt-in rate and the additional data you gather could lead to more sales down the road.
About Deborah Young
Deborah is a reformed tennis bum and inbound marketing strategist whose main professional purpose is to support local business owners, experts and entrepreneurs by helping them understand the impact and importance of online marketing. She is one happy camper when she can help clients be more visible on the Internet, increase their own customer base and become more profitable. How can she help you?
Topics: Email Marketing