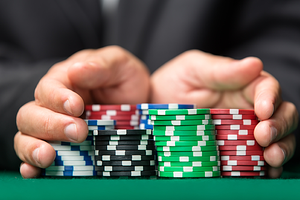 All in. Go big or go home. Carpe diem.
Used in the proper context, these phrases can all describe putting one's full effort and resources into an activity. And that's just what is called for when it comes to most things worth doing. Give it your full and best effort to get the best results.
This is especially true for inbound marketing.
Be prepared, though, because it usually takes a little time to begin seeing results. The longer you go all in with inbound, the more momentum you build, but early on in the process it may not be a completely satisfying experience.
---
When we say content marketing services, we don't necessarily mean you have to go out and hire a digital marketing agency. This is the third in a three-part series designed to offer content marketing tips that will help you do it yourself or know what questions to ask as you look for the perfect internet marketing company to assist your efforts. We hope you find it useful. In Part 2 we talked about content optimization and why blogs are such a great tool. Part 1 is all about content marketing strategy and where to get good content creation and blog post ideas.
---
What is Inbound Marketing?
Inbound vs outbound marketing can best be described in terms of pushing and pulling.
Outbound — what we think of as traditional marketing — is all about pushing, getting in people's faces and interrupting. You do this using TV, radio and print advertising mostly. You shove your message out to as many people as possible — never mind if they're actually interested in your product or service.
As you can guess, there are a few problems with this method. It's intrusive. It's expensive. And, thanks to technology, it just doesn't work as well as it once did.
Inbound, on the other hand, is all about pulling. You attract an audience by making yourself available to people who ARE interested in your product or service, giving them the information they're looking for and letting them approach you.
And you do this primarily using three tools: content, search engine optimization and social media.
All In With Content
The first thing you need to do is get inside the heads of the people who buy your product or service. What do they want or need to know before they buy? Then you give them that information in the form of content like blog posts, videos, podcasts, etc. You aren't selling. You're providing useful information. You're providing thought leadership and, by association, you're proving that you know your stuff.
All In With Search Engine Optimization
So, now you have all this great content — but if you don't use advertising to get found how do you connect prospects to the content? Search engine optimization, that's how. You do your research, and you figure out which terms people are using to look for the kind of content you have created. Then you optimize the content with those keywords so the search engines will find it and display it when people look for what you provide. This is how you connect with the right audience.
All In With Social Media
Great content created. Check. SEO in place. Check. So why do you need social media? Distribution and synergy.
Birds of a feather stick together, right? By providing and distributing links to your useful and optimized content you are building a loyal following on social media. They all have friends, some of whom haven't found you yet, but might want what your company offers. And when people hear about you from their friends you have instant credibility.
Inbound marketing isn't easy. It requires a long-term committment and making the decision to go "all in" can be tough. However, in the final analysis, the results will speak for themselves — and you'll be more than glad you did!
About Deborah Young
Deborah is a reformed tennis bum and inbound marketing strategist whose main professional purpose is to support local business owners, experts and entrepreneurs by helping them understand the impact and importance of online marketing. She is one happy camper when she can help clients be more visible on the Internet, increase their own customer base and become more profitable. How can she help you?
Topics: Inbound Marketing