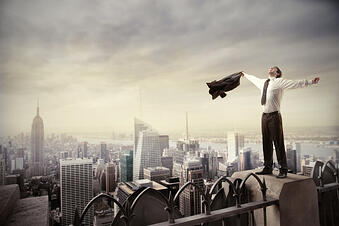 Who do you trust? Is it some company giving you the hard sell? I'm guessing you would be more likely to believe a customer of that company — especially if they're using the same product or service that you're considering for yours.
As a company trying to make that sale, how do you get the word out from your satisfied customers? In marketing parlance it's called a Case Study — and it can be a very effective online marketing solution when done correctly. So, let's talk about how to write a case study and share the good news.
Pick the Right Case Study Client
Doh! Obviously you're going to pick a client who is very satisfied with your company, but there are other things you should consider as well.
Pick an Evangelist. You don't want to pick someone who's simply happy with you ... you want someone who is shout-it-from-the-rooftops ecstatic. These are the same people who are already showing the love via word of mouth. They can't stop singing your praises to anyone who will listen.
These are also the people who likely know your product or service inside out and can clearly articulate how they are using it for their business — and the benefits they are reaping.
Pick an Unlikely Champion. Every business owner thinks "but my business is different" and sometimes that makes it hard for them to see how your product or service can work for their business. So, if you have a client that isn't typical or is using your product or service in an unusual way, they might be a good subject for a case study.
The more variety you can include in your case studies, the better the possibility that any potential client will see themselves somewhere in the mix — and the more ammunition this online marketing solution brings to your sales team.
What's the Best Way to Ask for Participation in a Case Study?
Now that you know who you want to include how do you best reach out and ask for their help? Send them an email.
By sending an email you know you aren't interrupting their busy day like you might if you pick up the phone and call. An email also gives you a good way to tell them what you have in mind AND why you think they are a good candidate. Sing their praises a bit. Congratulate them on their success.
You don't need to get into nitty gritty details at this point. Just give them the lay of the land and ask if they're willing to help — or at least have a conversation about it. If you've picked the right candidate you'll almost surely get a very enthusiastic response.
3 Steps to a Great Online Marketing Solution
Your actual case study should break down this way:
Define the problem.
Explain the solution.
Present the results.
Define the Problem. You need to establish a baseline. Describe the situation your client found themselves in before they became your customer or you implemented a new product or service. Why did they need your help?
Chances are your prospects are experiencing the same pain, so take the time to set the stage and make that clear.
Explain the Solution. The next step is to talk about the solution itself. What did you do? Why did you do it? Be sure to ask the client open ended questions that give them the opportunity to tell how your solution addressed their specific pain points.
This is your chance to educate prospects. Don't be afraid to shine the spotlight on yourself!
Present the Results. Time to break out the pie charts and bar graphs and show how your solution improved the bottom line for this customer. This is a win/win for you and your client. They've had tremendous success — and you helped make it happen.
Visuals are most important here because many people will be skimming the case study as a whole. Make your results stand out for even the most cursory of reads.
And there you have it. Pick the right clients. Ask them nicely. :) Then put together your case study using the three-step formula to add to your arsenal of online marketing solutions that work!
About Deborah Young
Deborah is a reformed tennis bum and inbound marketing strategist whose main professional purpose is to support local business owners, experts and entrepreneurs by helping them understand the impact and importance of online marketing. She is one happy camper when she can help clients be more visible on the Internet, increase their own customer base and become more profitable. How can she help you?
Topics: Online Marketing