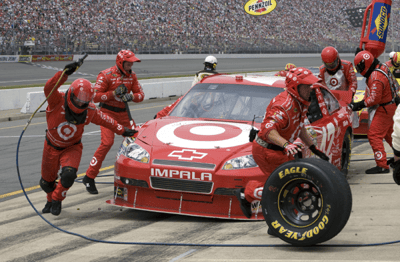 Businesses often think of a "funnel" when they consider how to generate sales, but you can also think of it as a "racetrack". Strangers become leads. Leads become prospects. Prospects become clients. Clients become evangelists who either buy MORE of what you offer or send new strangers to your door to become leads — or both.
Think of Marketing Automation as your pit stops.
Yes, sometimes people will pull into the pit never to return to the track, but more often than not a pitstop is a chance to refuel, lay down some new tread, tweak something under the hood or talk strategy. Then it's right back onto the track and back into the race. And to win the race each car and driver must get what they need, when and how they need it.
Segment Your List
Much like a pit crew prepares by knowing if the car needs gas or tires or if the driver needs a cold drink or strategic intel, you should prepare by segmenting your list and figuring out "Who are these people and what are they looking for?"
There are two main things you should consider:
Who are they? By that we mean you need to define the groups into which your buyers typically fall. It might be things like company size or location or industry. It might be something else entirely depending on your business, but you need to figure that out and then assign each of your leads to a category. We call these groups "Buyer Personas" and they are at the core of everything regarding your marketing and sales.
Where are they? This is not about where they are physically but where they are in terms of the buying process. Your conversation with someone who has a need but no real clue about what the solution might be will be very different from a conversation with someone you've talked to several times before and who is ready to buy a solution.
Once you know these two things, you've got the basics of your lead segmentation. You're ready to move to the next step.
It's About Email …
Typically, email is what people think about when they think about "marketing automation". And there's a good reason for that. It works!
So, your next step should be to build out a series of email auto-responders for each of your segments. Keep a steady flow of emails coming to each segment. The idea is to provide a healthy mix of relevant and useful content along with content designed to get your lead to take actions that will move them further along your racetrack.
… But It's Not Only About Email
Email is a great tool, but you need to put some of the same methods into practice on your website, too. This is often the "missing link" in marketing automation solutions. You need your website to be smart so it can present the right call to action to the right person at the right time. And you need it to segment new leads automatically.
That's a tall order, but with the right tools it is possible.
Keep Tabs on Social Media and Your Website
Of course you want to use social media to promote your great content, but you also need to monitor social media. Your automated marketing should include a way to watch for terms important to each of your segments, and it should automatically notify you when it gets a "hit" so you can join that conversation.
You also want to do the same thing on your website. With the right automation tools in place, you'll know what actions leads are taking on your website. And that will allow you to ride in on your white charger and follow up with exactly the information they need at exactly the right time.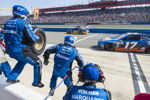 You know what to do now, so why not take it to the next level. Grab our Marketing Automation Planning Worksheet, which will help you put together a specific plan for your business. If your current system can't handle your plan, contact us. We can show you how to put that new automation plan into action.
About Deborah Young
Deborah is a reformed tennis bum and inbound marketing strategist whose main professional purpose is to support local business owners, experts and entrepreneurs by helping them understand the impact and importance of online marketing. She is one happy camper when she can help clients be more visible on the Internet, increase their own customer base and become more profitable. How can she help you?
Topics: Email Marketing, Lead Generation