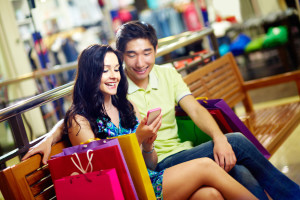 Using the Internet to market your business still works great but if you're a "local" business serving a specific geographic area mobile marketing is critical. What value can you place on being able to put your business in front of potential customers when they're right around the corner?
There are three main ways to take advantage of location based local search options for promoting your business:
Location based features

Location based search
Location based mobile ads
Location based features are more than just "checking in". If your business has a mobile app, you could offer a "proximity discount" to people who are already in the area. Or maybe you draw people through your doors by showing them what else there is to do in your neighborhood. Maybe you have a contest for "best bad hair horror stories" or "the best thing that ever happened to me in a bar" or whatever sort of topic applies to your business. The possibilites for engaging customers and potential customers are endless.
Showing up in location based search is crucial for local businesses. Did you know that roughly one-third of all searches have local intent? And virtually all smartphone users (94%) have searched for local information. These searchers want to see your location and your operating hours in the results -- and they want to be able to "click to call".
In the right situation location based mobile ads can be effective because you're approaching people when they're physically close to your business. To be honest though, we don't usually recommend paid advertising right off the bat with new clients. If you're trying to establish an online or mobile presence, you'll usually get a bigger bang for the buck by staking your claim using organic methods first.
So, don't forget mobile marketing when you think about promoting your local business!
P.S. If you're looking for a little help, our strategic marketing consulting is designed to show you the online marketing strategies that help keep the customers you have while generating more and better leads. That process begins when we improve search engine ranking, devise the best social media campaigns, develop your app and put other mobile and online marketing strategies to work for your business.